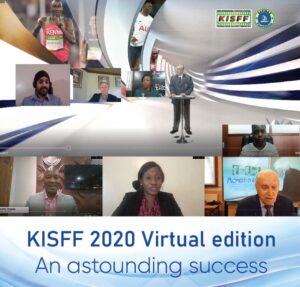 Positives were learnt amid the most trying moments of the Covid-19 pandemic as the third edition of the annual Kenya International Sports Film Festival (KISFF) took an uncharted path that is a virtual film festival. The experience of the four-day virtual event a new one as the coronavirus halted major events around the globe and grinding to halt plans for an even bigger and better festival now in its third year.
Organisers for month mulled with the idea of postponing the event all together as with other events across the world most notably the Tokyo Olympics but after consultations with the backroom team behind the festival, it was decided to have the event both virtually and on location with strict observation of the Ministry of Health guidelines to curb the spread of the virus.
This arrangement was later to be discarded work began behind the scenes to make this festival a success in the wake of uncertainties and eventual use of technology 100%.
In these unprecedented Cocid-19 times, the 2020 edition was literary impossible to congregate for this impactful event.
As such, there was need to evolve to a virtual event. The team was beefed up for
communication, production, and management of the event. Based on the targets and feedback, the event was successful.
Technology took centre stage as an integral part of the festival. The entire program was streamed live on the KISFF social media platforms as well as video conferencing tool floor.bz platform.
According to the feedback received from the technology experts, the festival managed to successfully deliver a 4-day virtual festival to the world and was able to reach 24,262 people through all the platforms and engage with 6,224 people from the target audience. This was a record number for the festival.
The festival had over 70 participants from Moderators, Panelist, Speakers, Studio Guests and Directors/Producers of the various movies and documentaries screened over the four days.
The festival received an initial submission count of 1, 328 entries from around the world. Once again, the Islamic Republic of Iran had an impressive 132 entries and The Islamic Republic of Iran's Ambassador to The Republic of Kenya, H. E. Jafar Barmaki was at hand to offer his support for the festival giving the opening speech on the final day. Barmaki as well was kind enough to educate the audience about the wonderful nature, spirit and essence of Iran and Iranian Culture that is the embodiment of the uniquely Iranian sport of Zurkaneh that is now being undertaken by Kenyan sportsmen.
This was a very educational session especially with the assistance of the Kenyan Zurkaneh Coach who had accompanied the envoy.
The festival had a collection of 11 panel sessions and three special speaker sessions on various topics ranging from Cricket to football, motorsports Arbitration in Sport, Rugby and Sports Governance in Africa. Others were the challenges faced by women in sports as both administrators and participants, body building and its growth in Kenya, Marksmanship (shooting) as a sport, Commercialisation of sports as a business, Progress within the Kenyan differently abled sports sector, the importance of the sports biopic, the contribution of professional Indian cricketers to Kenya in the 1980's & 90's and sports as a peace building initiative and morale booster within global refugee communities.
Prof. Dr. Dr. Moni Wekesa gave a lecture of the topic of doping in sports as psychologist Rowena Tirop spoke about Sports Psychology. Kenya's Judges and magistrates vetting board chairman Sharad Rao gave a Historical perspective on the progress of sports in Kenya.
This year, the organisers of the festival, publishers of Sports Monthly Magazine the Safinaz Foundation managed to attract 15 partners who shared the vision of the premier festival in Africa offering their support despite economic challenges that the globe faces amid the covid-19 pandemic