The organisers of the Kenya International Sports Film Festival has laid down plans for a full digital festival as the premier event which the only one on African soil gets to the third edition. The team has already engaged technology experts on how the four-day event can be expanded virtually and has embarked on a steady development and popularisation of the festival's social
media and you tube channels in readiness for a fully digital festival.
We shall have the festival on video conferencing tools like Zoom and this year we look at not only
streaming live the panel discussion and lecture sessions but films too will be beamed live,
Says KISFF Chairman Aasif Karim.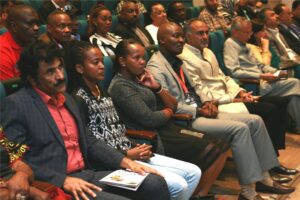 The biggest success that KISFF has achieved in the last two editions is being recognised by Federation Internationale Cinema Television Sportifs (FICTS), headquarters in All systems go for digital KISFF edition Milan Italy. FICTS, which is the only body from sports film promotion recognised by the International Olympic Committee (IOC) and KISFF, signed an MOU to work together towards promoting the goals of sports in film.
The partnership will see FICTS assist, guide and support KISFF in all its activities to ensure further growth in Africa. KISFF, which was selected for admission into FICTS in November 2019 after successful hosting its second edition after the inaugural KISFF event in 2018, and FICTS have agreed to work together to promote as both have similar vision and goals in promoting sports film and related areas. With this agreement, the 2020 edition of the Kenya International Sports Film Festival will be held three weeks earlier from October 28th November 1st 2020 in line with the FICTS calendar.
In the two-year MOU with FICTS, a global organisation whose objectives are mainly to promote sports films and is recognised by International Olympic Committee, KISFF, that is organized by the
Safinaz Foundation in Kenya, being the only sports film festival in Africa will benefit from the professional guidance of FICTS in ensuring international standards in technical and organization of the annual festival.
KISFF will work, promote and support FICTS in all areas as required. FICTS and KISSF can mutually use the logos and related areas to promote each other mutually and KISFF will ensure the necessary platform during its festival to promote FICTS and IOC objectives.
Read the MOU.
FICTS will support whenever possible in kind and financial resources to KISFF as and when
available,
the agreement continued.